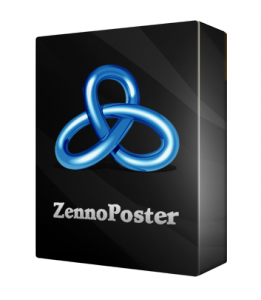 These days very widely used software is available in the market which with its exclusive features of making bots without any programming knowledge is showing supreme leadership in the market. Yes we are talking about Zennoposter. With its powerful performance it helps one to automatically perform all SEO tasks that would have taken much time if the software was not used.
Zennoposter Functionality!
Though the software is very easy to be used but you will have to learn it before you get handy using it. The interface is not that easy and it may take you sometime before you are able to use all its features with ease. The tutorial of the software is very user friendly and with its video tutorials you can easily learn the art of coding bots.
Zennoposter Positive Points
•    Has got inbuilt functions for multithreading, template running with proxies
•    User friendly bot programming which is again inbuilt and saves a lot of time
•    Establishing the connection between 2 bots has been made crystal clear to be understood and it's very easy to be implemented.
•    Cap Monster program of the software works like a charm. External services are not required to break the captchas and it can itself learn to break new ones as well.
•    Zennoposter can be easily used for social networking sites and also helps a great deal in increasing the rank and backlinks very effectively
•    Easy to install and use applications for which help from support staff is not required.
•    Company offers free trial for the software and all its exclusive features which gives a very handy impression to the user about the software.
Is it Zennposter worth buying?
Even if you can code yourself, still Zennoposter is worth having  Theres no better account registrator than this due to pre-built macros, email verification and many captcha breaking types. Thus in order to wrap up this article I would like to say that Zennoposter is an essential SEO tool for everyone. In fact, some people even consider it as the best SEO software.