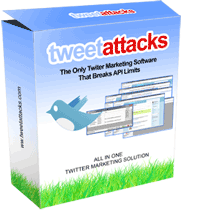 This tips don't apply only to tweetatacks but they also correct for other twitter programs.
1. Don't make more that one account per proxy per day. Don't use more that 3 accounts on the same proxy
2. Don't use public proxies, they are already spammed to death and you are just wasting your time. Buy some private proxies yeah, I give you the link to the best proxy provider in the world 😉
3. Don't follow more that 100 persons on your first days.
4. Don't spam on the first days.
5. Don't leave a custom footprint, twitter you will ban all your twitter accounts which have the same footprint. Footprints can be emails, photos, tweets. So Complete your accounts bio, upload a different photo, look like a regular twitter user, not like a spammer. Use different emails from different domains, the old gmail catchall trick using "twitterUsername+email@gmail.com" is flagged by Twitter. Don't use the exactly same tweet on multiple twitter accounts.
6. Don't post to many links. You could post links from the sites which are very posted on twitter (eg wikipedia, youtube, news sites) to make your account look natural.
7. Target your audience,  follow only the persons which might be interested on your links. Follow the followers of the most importants twitter users from your nice.
8. If you twitter account gets banned usually isn't the tweetattacks or proxies fault, is yours.
The botom line is act natural, not like a spammer, be a natural spammer. Feel free to complete our tips.